The Floyd
The West Coast's Most Authentic and Sophisticated Pink Floyd Experience
Tribute to Pink Floyd
The Floyd is an award-winning, national-level Pink Floyd tribute band. Their arena-style shows consistently sell out. They set themselves apart from other tributes because each show is individually crafted and played by musicians–and never computer automated like most national-level Pink Floyd tributes performing today. In short, this band has SOUL.
The band and in-house production crew take great pride in re-creating each subtle detail that makes Pink Floyd so special. Just like the original, their shows feature a massive array of concert lighting and an exclusive QUAD surround sound show using Meyer Sound loudspeakers (the finest in the world). Audiences can expect to hear songs from the albums of Pink Floyd's most popular and classic-rock era: Meddle, Dark Side of The Moon (complete!), Wish You Were Here, Animals and The Wall.
The Floyd shows are created in painstaking detail and are not just concerts, but often local events. Be sure to catch their few remaining dates in 2022. It will be a show you won't forget.
The Fans
So you thought you might like to go to the show. To feel the warm thrill of confusion, that space cadet glow.
OMG, I can hardly wait! VIP tix bought and we're bringing another friend who has not had The Floyd experience yet. We always bring a new friend. So excited!
Going! Bringing lots of friends. Get ready for an amazing show. These guys are pure professionals. First class in every way! Can't wait to experience it again!
I highly recommend this show…I've seen it change and enrich lives. Music is the best therapy, I think…especially the music of The Floyd.
Great show last night! You guys ROCK!
Thank you for an amazing experience! Looking forward to another show
Loved when the people of the theater announced.."Be prepared to have your socks knocked off…"
My goodness..What a voice that woman has..great show..you all killed it. I've seen Pink Floyd Animals tour..great tribute band
I was at this show. I was blown away by y'alls skills. Excellent show!
Outstanding!!! Congratulations!!
Such a great show! Thank your always giving it your all!
Brought tears to my eyes…
Super show tonight. Lights, sound and talent on stage was a can't miss. Thank your for rocking Auburn. Y'all play great music together!!!!
Last nights performance was truly fabulous. A very memorable night. Great show. I highly recommend these guys.
You were amazing in! Great venue, great show. Thank you!
Well worth the trip from Reno! Well played is an understatement!!! What a great venue. Let's do it again sometime!
What a fun and entertaining evening. The music was absolutely wonderful and the light show was an amazing surprise! Thank you, The Floyd! We hope you will return.
Outstanding show! Amazing musicians with talent overflowing. Laser and light show was breathtaking. We were pinching ourselves…! Hope you come back next year for two shows!
‪ Exquisite production!! Loved every second of it – extreme attention to all the subtle Floyd details – consummate professionalism. I will be seeing you again this year – thank you & please come back for more shows!!!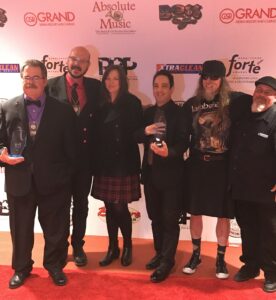 Forte Award Winners
2017 Reno/Tahoe Forte Award "Best Tribute Band" winner and "Best Female Vocalist".