The Floyd
The West Coasts Most Authentic and Sophisticated Pink Floyd Experience
The Events Schedule
"The Floyd" is a tribute to the sounds, sights and emotions of one of the greatest rock & roll bands in history; Pink Floyd! "The Floyd" will take you on a musical journey that spans over 50 years of Pink Floyd history, recreating many of the greatest moments from; Meddle, The Dark Side of the Moon, Animals, Wish You Were Here, The Wall and A Momentary Lapse of Reason.
The Fans
So you thought you might like to go to the show. To feel the warm thrill of confusion, that space cadet glow.
Brought tears to my eyes…
Super show tonight. Lights, sound and talent on stage was a can't miss. Thank your for rocking Auburn. Y'all play great music together!!!!
Last nights performance was truly fabulous. A very memorable night. Great show. I highly recommend these guys.
You were amazing in! Great venue, great show. Thank you!
Well worth the trip from Reno! Well played is an understatement!!! What a great venue. Let's do it again sometime!
What a fun and entertaining evening. The music was absolutely wonderful and the light show was an amazing surprise! Thank you, The Floyd! We hope you will return.
Outstanding show! Amazing musicians with talent overflowing. Laser and light show was breathtaking. We were pinching ourselves…! Hope you come back next year for two shows!
‪ Exquisite production!! Loved every second of it – extreme attention to all the subtle Floyd details – consummate professionalism. I will be seeing you again this year – thank you & please come back for more shows!!!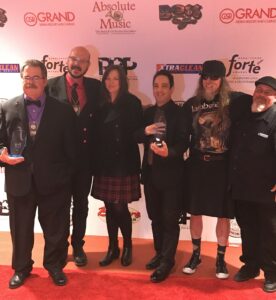 Forte Award Winners
2017 Reno/Tahoe Forte Award "Best Tribute Band" winner and "Best Female Vocalist".